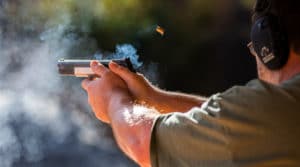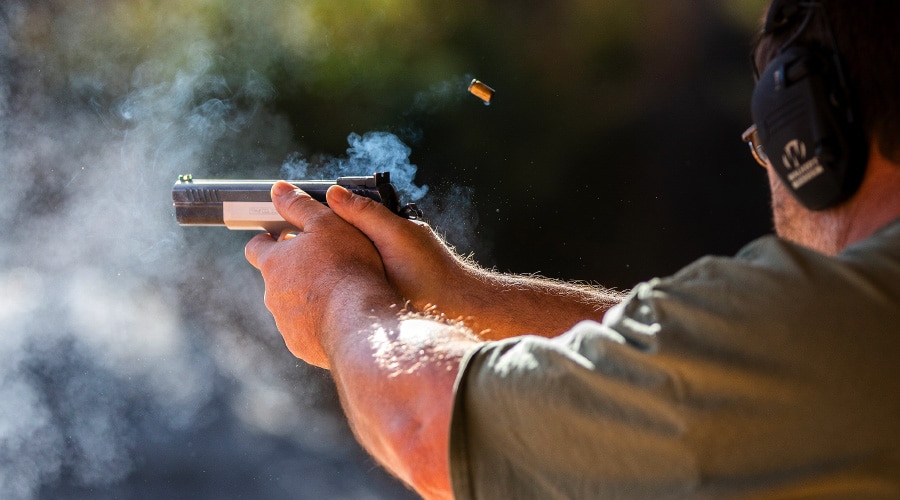 What equipment is used?
The targets for the Field Pistol stages usually represent vermin species, shooters tend to pick up a bit of learning about conservation as well, as most animals that are depicted are pests and are in paper or steel reaction targets. Competitors may use a different type of pistol between Varmint and Field Pistol matches if they wish.
Long arms such as Shotguns and Rifles are employed in the Field & Action Match as well. Field Pistol courses of fire are wide and varied and each is designed to challenge a different aspect of the shooters abilities. The only restriction between Field Pistol and other disciplines is that Field Pistol is not shot with a loaded firearm in the holster, i.e. the shooter must load their firearm on the line when directed by the Conducting Range Officer.
In summary, Field Pistol is an interesting and challenging discipline that provides variety and satisfies the needs of shooters in a wide variety of shooting challenges, from speed events to the more challenging long range events there is something for everyone. People of any suitable age can enjoy this discipline and it attracts a large spectrum of the shooting spectrum, from young people to families and seniors, everyone is in there with a chance.
What competition is involved?
Varmint Pistol
Varmint pistol is a precision static match using vermin targets at various ranges dependent on match requirements. This is normally a slow timed match as the goal is accuracy, not speed. Varmint Match is shot from 25m out to 200m
Field Pistol
Field Pistol is a test of a shooter's speed and accuracy at various distances. There may be one or multiple targets in different stages and the matches generally require movement between shooting positions.
Field Pistol also has an exercise (practice) match in the rule book which is shot from a static position (i.e. all shooters in a line shooting forward of the firing line), however this is a practice match only, and not true Field Pistol as it is intended to be. This match typically helps new members learn their basic gun handling skills.
Field & Action Match
Field & Action Match falls under the auspice of the Field pistol discipline and is shot in a similar fashion. The difference is that this match is even more exciting than Field Pistol in that it utilizes Pistol, Rifle and Shotgun in its stages, the shooter needing to compensate not only for accuracy and speed over varying distances, but also has to come to grips with the change of firearm used. This is a great test of the shooters ability and is well received by its practitioners.
How do I get more information?
For more information please contact field.pistol@jarrahdaleshooters.org.au