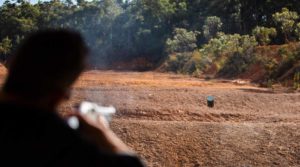 JSS CovID-19 Update No.3
Coronavirus Policies | Safety First for our Members
Dear Members,
Your Committee would like to take this time to thank you all for your patience and understanding through out this difficult period. The booking procedure for ranges for practice has been well adhered to and reports back from the range has been positive.
With this in mind and in-line with the changes to outdoor gatherings made by the WA Govt today, we will be opening up the restrictions on practice to ten (10) people per range shed.
Please note that the following still applies:All scheduled matches at the club have been cancelled until the 1st June 2020,
The club will be available for practice, load development and maintenance for MEMBERS ONLY until the 1st June 2020.
Range Booking Procedure
Should you wish to book a range for practice during the shutdown, the following procedure and guidelines MUST be followed:
The range will be available for MEMBERS ONLY. 
Members are to contact the captains directly to book in for practice. Members must inform the captains of the names of all other club members who will be attending.
It is recommended that members attend with at least 1 other member for safety should, an emergency arise whilst on the range complex
There will be a limit of 10 members per range shed at any one time.
The health and safety of the JSS membership and your families is of the utmost importance. While utilising the range for practice please remember to continue Social Distancing Procedures and if you are unwell, have traveled in the last 14 days, or have been in contact with someone who has presented with symptoms, STAY HOME.
Should you have any questions please contact myself or any of your committee for advice or clarification.
Kind regards,
Callen Basell | Vice President