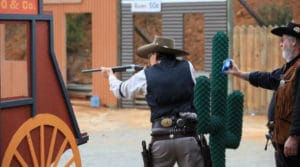 What is Single Action?
Single Action is a multifaceted discipline that uses original or replica firearms that were commonly used in the American Old West period of 1800 to 1899. This includes single-action revolvers, lever-action rifles and carbines, lever-action and pump-action shotguns, and side-by-side shotguns (without automatic ejectors).
The targets are generally reactive and vary in shape and dimension. In addition to competition, Single Action shooters also preserve, promote and respect the skills, traditions and pioneering spirit of the historic American Old West, often adopting a shooting alias appropriate to the era and dress according to add to the authenticity.
What equipment is used?
Essentially, the firearms and calibres used in competition are those that were commonly in use during the 1800's. The firearms may be originals or replicas, but they must all be in good and safe working order and licensed by relevant firearm's sections of the Australian Police.
Some modifications are permitted; however, modifying the firing, cocking, chambering or levering mechanisms of the firearm in any way that changes the process from an entirely manual operation to any other style of operation is not permitted.
Some shooters add external embellishments such as tacks, carving, engraving, chequering and inlays to the stocks and grips of their firearms to reflect the time period. This is permitted, as long as it does not provide any kind of radical or target-type grip enhancement and is permitted within the specific match rules relating to external modifications.
All firearms may be repaired and/or restored to their original condition and internal parts may be smoothed, reprofiled, polished, deburred or replaced, provided they do not conflict with the rules relating to internal modifications.
Rifles
The rifles or carbines used in main and team matches must be originals or replicas of lever-action or slide-action rifles manufactured during the period from about 1860 to 1899 incorporating a tubular magazine and exposed hammer. Rifles with box magazines are not permitted. Certain shooting categories require a specific type of rifle and ammunition to be used.
Rifles must be chambered for centrefire pistol calibres of at least .32-calibre and no larger than .45-calibre. Possibly the most popular calibres for use in main competition are the .45 Long Colt and .38-calibres.
Shotguns
Original or replica side-by-side or single-shot shotguns typical of the period from about 1860 to 1899 with or without external hammers, single- or double-triggered and without automatic ejectors are permitted. Lever-action and tubular-feed exposed hammer shotguns are also permitted. The Model 1897 Winchester slide-action shotgun is the only slide- or pump-action shotgun allowed for competition. Military configurations are specifically prohibited.
Side-by-side, single-shot and lever-action shotguns must be centrefire of at least 20-gauge and no larger than 10-gauge. Slide-actions must be centrefire of at least 16-gauge and no larger than 12-gauge.
Certain Junior categories allow for the use of .410-bore shotguns of single- or double-barrel configuration, with certain shooting categories also requiring the use of specific types of shotgun.
Revolvers
Original single-action revolvers manufactured prior to 1899 or approved replicas are the only revolvers allowed in main match competition. Certain shooting categories require the use of specific types of revolvers and calibres. No more than two main match revolvers may be carried to the firing line at any time. The Revolver calibres are consistent with those used in Rifle competition.
What competition is involved?
Targets used in Single Action matches are generally 'reactive' plates specifically designed for this type of competition using lead projectiles (copper jacketed projectiles are prohibited). Targets are varied, with most common shapes being square, round or card-suit shapes often based on a 400x400mm size. Novelty targets, buffalo, ore cart and tombstone-shaped targets are also commonly used. Multiple targets are used on each match stage.
The targets are set in accordance with the stage description and must be engaged in exactly the same sequence from static positions, regardless of which category a participant competes in. Sequences are clearly described in the shooters' program.
Matches are scored based upon elapsed shooting time and added penalty points for missed targets. Each stage is scored individually and the total combined scores for all stages are ranked for place of finish, either overall or by category. Rank scoring is recommended when all stages of a match are not of around the same duration and degree of difficulty. The alternative to rank scoring is scoring based upon total elapsed time; ie, the total raw time plus penalties. More recently, the stage point scoring system has been introduced.
How do I get more information?
For more information please contact single.action@jarrahdaleshooters.org.au